It's sorta a cliché nowadays, but those lines having been sang along in thousands of lyrics about following our dreams are not lying. Daydreaming is good. It feels uplifting to visualise and meditate over them and to plan everything forewards. It fills us with positivity and motivation. Like as kids, miniature car guys, when we listed all the cars we wanted to possess when we grow up. Then time goes by, priorities and dreams adapt and change. But Tony, in this case, remained as a kid. And he doesn't regret it for a single minute.
Because today Tony owns his dream car. He raised the bar quite high with his 1000 hp BMW M54B30-powered Volvo 740 GLT sleeper having been shown last autumn, and now he returned to jump over that threshold. For him, pushing all the limits till its edges is a natural quality. That is why the Resistance Missile System's armory also has a four-door mothership on duty: a Toyota Chaser.
Unlike his infamous but notorious sleeper Volvo (which was a humble "quick-build" according to Tony) he bonds much more deeply towards this machinery. While the others fell alseep next to the photos of the Ferrari F40, the McLaren F1 or the Ford GT90, for him the dream car was (and still is) Toyota's executive JDM sports sedan, the Chaser JZX100 since the first time he saw it as a kid in Gran Tourismo 2.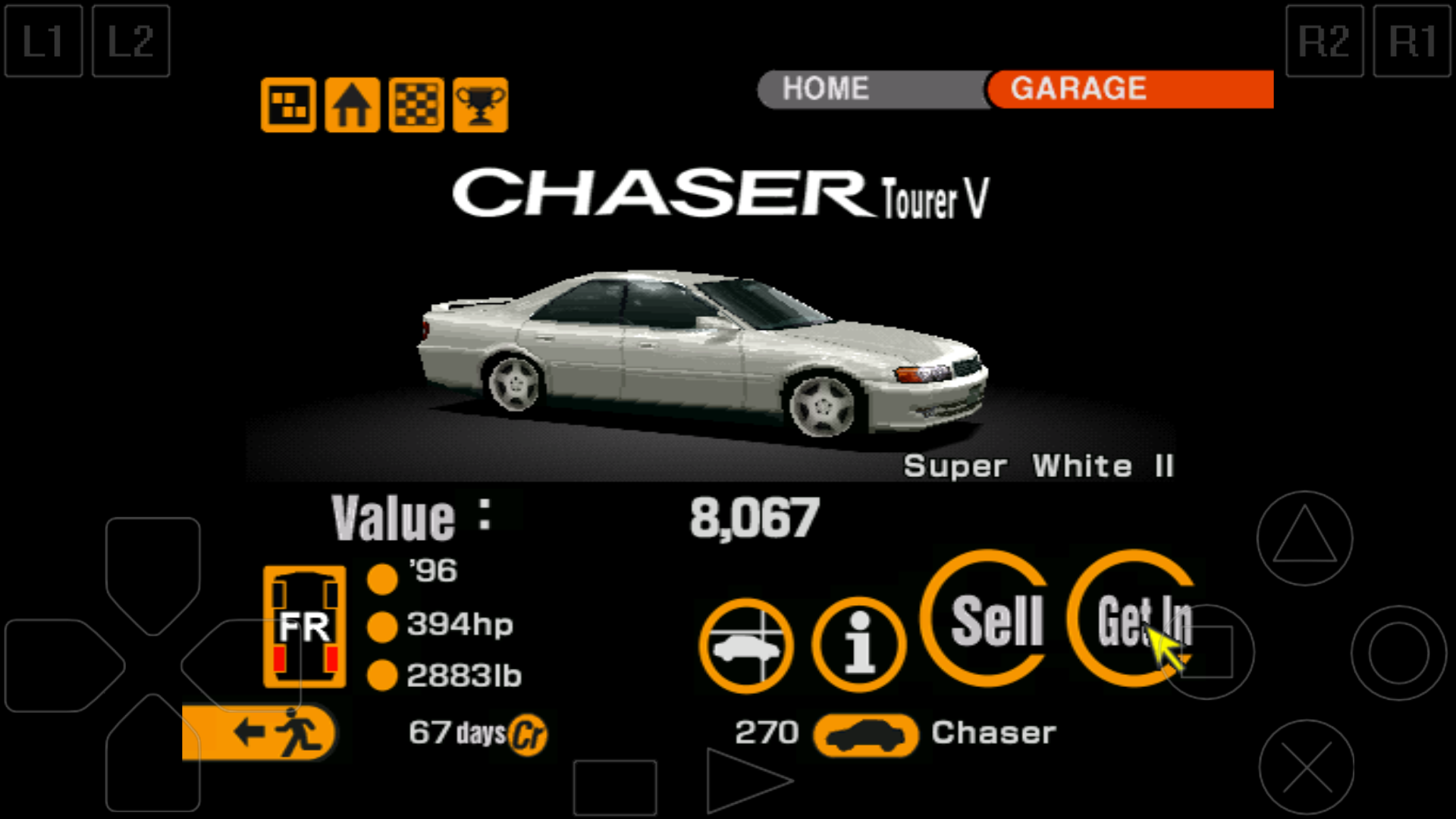 Years went by; the dream still not faded, nor the desire for possessing one, so he finally healed his symptoms in 2010 by getting a Chaser. Tony attended pro-am drifting contests with promising results. With time, not only the competitors, but the sponsors also started to chase his Chaser.
Then the euphoria got interrupted by a crash in 2013. Tony had to face weeks of recovery and months of hiatus after the car was labeled as economically totaled. The agony held until 2013/2014 Christmas, when he obtained another JZX100, which he owns to this day. Except the engine.
Harder, Better, Faster, Stronger
The '99 Chaser Tourer V got imported with a 2.5-liter inline-six 1JZ engine, which we mostly know from the Mk3 Supras. Knowing Tony, it ain't a surprise at all that the engine got tuned up to 600 hp in a blink of an eye, with which he got back on track, winning the rookie of the year title in the 2015 Swedish Drift Championship.
The 1JZ had been serving on the level untill it surrendered in 2017. Another but even more longer hiatus was around the corner again, but eventually it worthed every single second of waiting. Because the Chaser resurrected as a matchless, one-and-only car by the end of this grandiose project.
Now there's a 2JZ engine operating as a heart, but it's not a second-hand 3-liter spare unit swaped out of an Mk4 Supra. This story holds more adventure than that.
Tony chose to walk through the harder, slower but a more beautiful path. Instead of looking it up everywhere to find a donor, he contacted HKS, and the guys in Japan fabricated him a brand new, higher, long-stroke 3.2-liter 2JZ block. 2JZ engines are literal legends - not only for their reliablitiy but mainly for their intentionally oversized carrying capacity, and this custom build 1/1 block was undoubtfully meant to be the ground zero of a mad project. The long-stroke cylinders are occupied by CP pistons which they connect to the GRP aluminum rods with custom joint-pins, while the custom grinded camshaft is fixed down properly with billet main caps and studs. Since the unique block's bore is perfectly equivalent with a regular one's, there was no any obstacle for the OEM head to take its comfy seat on the top after it got an Xtreme Cylinder Heads Stage 4 kit, HKS 280 camshafts, and Siemens 2150CC injectors.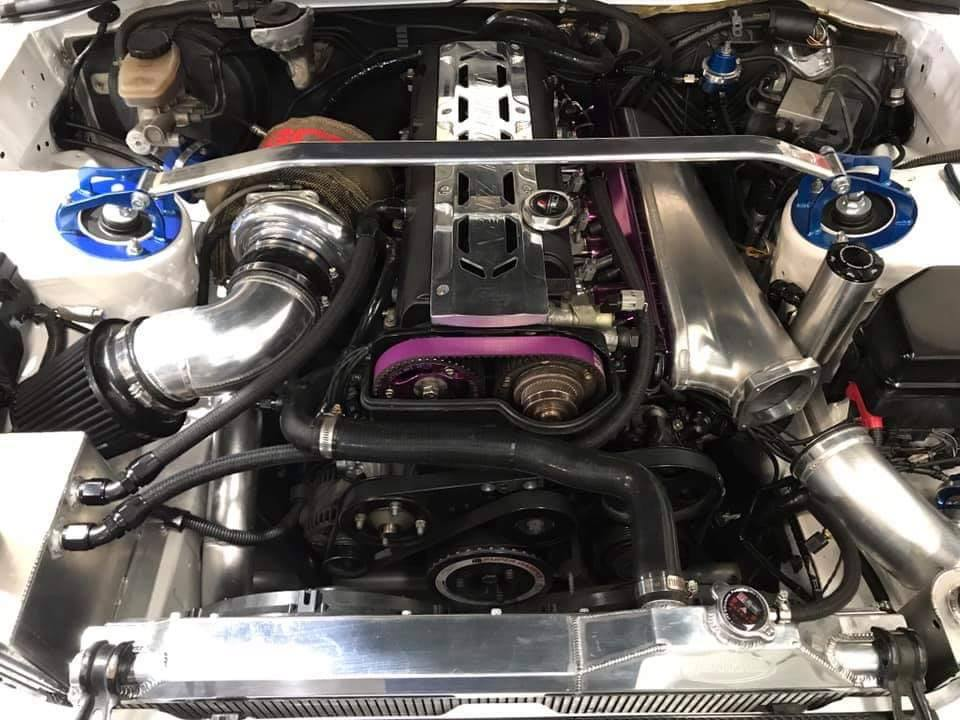 The injectors are being fed with E85 by a Weldon Racing fuel pump, then the exhaust gas has to spin the turbine of an custom 1/1 HKS turbocharger. The 1.5 bar (22 psi) plus boost does a rotation on the PST carbon-fiber driveshaft through a Getrag V160 gearbox and a PST triple-disc clutch with even 1200 hp. The project took a year and Tony's still not scared of converting forwards to sideways since it's done, and the TRD LSD takes care of the proper lock for it.
Not Agressive But Suggestive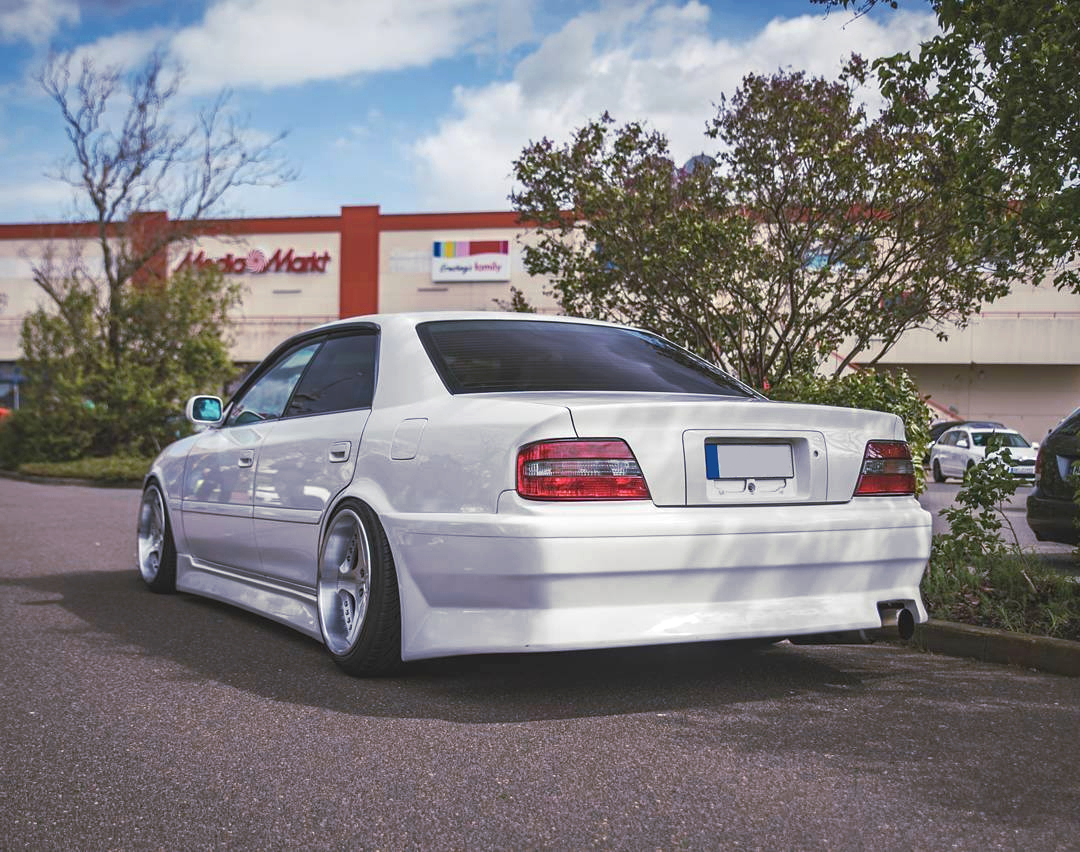 The Chaser's yacht-size and sedan config don't let much fantasy for a sporty outlook, but it's not a shy car. Of course it's not a widebody snowmobile being spaced all around, but not a sleeper either. The overall composition of the BN Sports bodykit with the Vertex aero elements pass on the firm message saying "Maybe I'm not 'that' stock". Still it doesn't show as much power as this car actually has, not even that this 1500 kg yacht could reach 380 kph.
Not a useful feature in the Swedish winters though, but at least the HKS coilovers do their jobs well in providing low stance and more direct drivability. For stopping there's a D2 Turbo braking system with 6-piston calipers camping cheekily behind the 19" Leon Hardiritt Orden wheels.
The Chaser has another, occasional outfit by TRD with a TOM'S Racing rear wing and a set of black 3-pieces Workmeister S1 rims, and this combo is able to bring on some racing spirit on this barge, but as Tony confessed me, he realized he is not a fan of that rear wing.
Most part of the interior stayed untouched, only the BRIDE bucket seat, the steering wheel and the AEM multi-instrumental dash show the intention that this car is not mainly for slow, executive sightseeing cruises. That unique cupholder at the glovebox only misses the papercup filled halfway with water then to set our destination to the hotel at the top of the mountain while listening Dave Rodgers' eurobeat anthology in the background with some tofu in the trunk.
Weightless Madness
People tend to mix the Chaser with the BMW M5 from a certain distance, which is understandable: its naturat habitat is not here in Europe. There are only three Chaser JZX100's can be found even in the high automotive culture representer Scandinavia, and this is the only one in Sweden, not more. Partly this is why this car won the Import Car of the Event award on the famous Norwegian car jamboree, the Gatebil in 2015.
And this has its own disadvantages too. Even though the Chaser doesn't live carefully blanketed in the corner of the garage 24/7, the evil never sleeps: an incidental failure or breakdown in the custom 1/1 parts could force Tony into another long hiatus, therefore he is more careful with the Chaser, the usage automatically rings the bell earlier in Tony's head, but he doesn't mind it. As he told me: "Being unique has a price."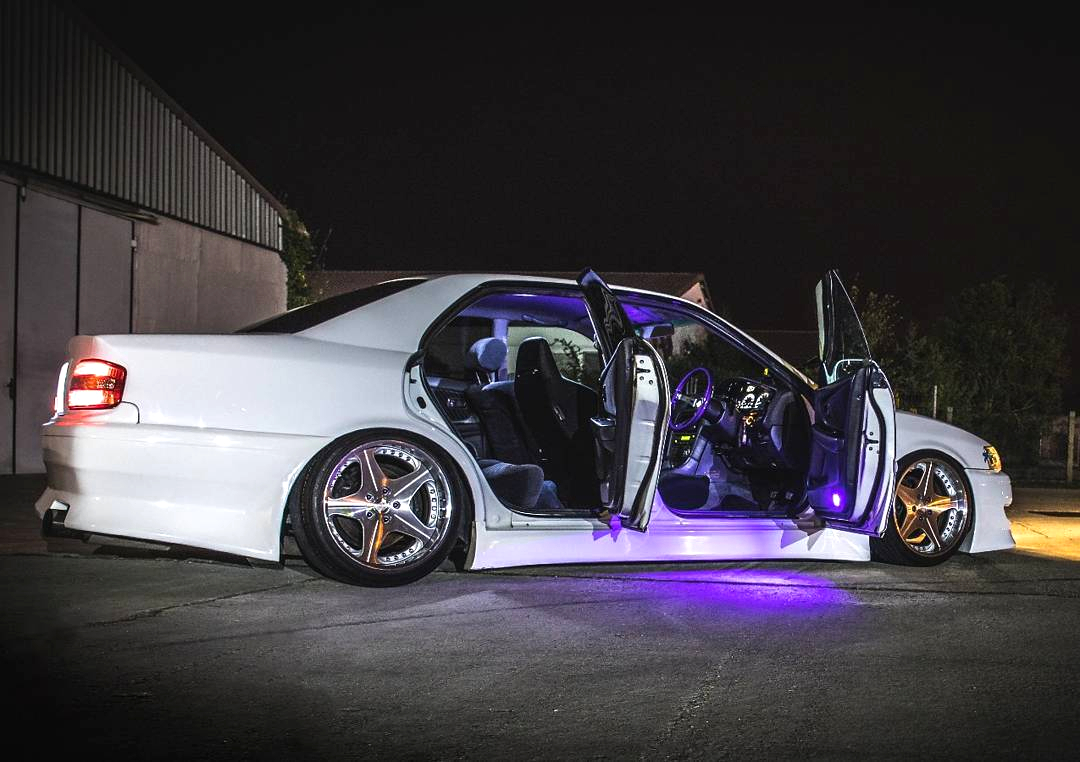 And by the way, the car still gifts her owner with much enough positive experiences after all these years too. Tony loves his car unremittingly to this day as is, and still hasn't got bored of it, so he doesn't really have any plans for the future in particular. He doesn't care about sponsorship offers anymore, rather aiming to collect more nice memories together without any pressure from the outside. They already conquered Ebisu, the famous Japanese drift track together and there are a few more drifting sanctuaries left yet to leave some tyre-mark, like Meihan, and Suzuka. Well, we cannot doubt, he'll surely checkmark all of them, because he had proven himself once before when he made a promise, holding a PS1 controller.
Detailed specs // Toyota Chaser Tourer V JZX100 (1999)
Engine
Custom built 3.2 liter Spec 2JZ block by HKS; Custom grinded OEM Crankshaft; billet main caps with studs; CP Pistons with custom pins; GRP aluminum rods; Titan Motorsports damper pulley; custom catch can with quick drain; AEM V2 ECU + AEM CDI Ignition coils; Solid Engine Mounts; OEM 2JZ Head; Xtreme Cylinder Heads Stage 4 head package; HKS 280 camshafts; Ferrea valvetrain; Fluidyne Radiator with dual fans; Electric water pump; Siemens 2150 CC Injectors; Weldon Racing 2345-A fuel pump with MSD voltage controller – MAP Controlled; HKS Super GT turbocharger (1/1); GReddy Intercooler with HKS V-Band piping; AN fittings
Drivetrain
Getrag 233 (V160) gearbox; RPS Billet Carbon Triple Disc Clutch; PST Carbon Fiber Driveshaft; TRD LSD
Suspension, brakes
HKS Hypermax coilovers; D2 Turbo brakes with 6-piston calipers
Chassis, rims, tyres
BN Sports/Vertex Aero bodykit; Leon Hardiritt Orden 19" rims: 10" width at the front with 265/40 tyres, 11" width at the back with 285/45 tyres
TRD Sportline low-lips bodykit; TOM'S Racing rear wing; Workmeister S1 Black edition 3-piece rims
Interior
BRIDE bucket seat; Nardi/Vertex/Sparco steering wheel (depends); AEM multifunctional gauge-dash; custom cupholders
Pull over to Facebook!