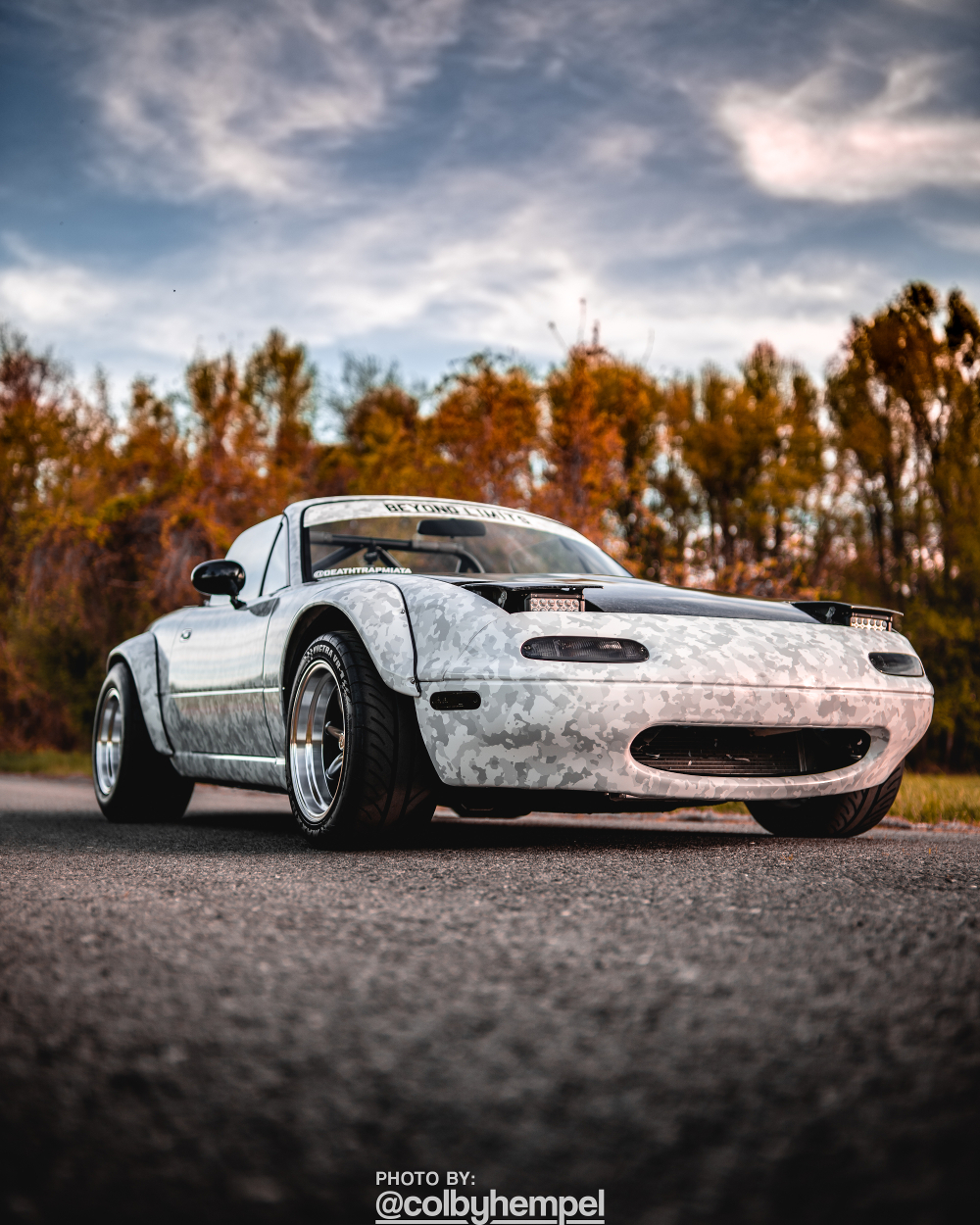 Jinba ittai - the Japanese term for the perfect symbiosis between horse and rider was the design philosophy at Mazda during developing the MX-5 Miata in the late '80s, which covers five main requirements: compact and lightweight design, two comfy seats, 50:50 weight distribution (that automatically means FR layout), independent suspension at all four wheels, and solid chassis-driveline connection for the sake of sharp and direct throttle response. No wonder it's a secret crush for many car guys to this day.
Colby Hempel is not an exception either. Though this cheekily young 20-year-old mate from Hainesport, NJ is apparently a bit more of a car guy material than most of us, despite his age. Not only this lad is talented car-photographer/core member of the local car-club Beyond Limits, but the cherry on top is definitely his LS-swapped V8 Miata which is just as mad as Ryan Tuerck's Ferrari 458-swapped Toyota 86, the GT4586.
She's an exceptional love, but not the first one. Colby's first car was a 1999 Miata NB, which slowly but surely got dragged him into this world of modded cars. Shortly after, just when their relationship started to turn exciting, poor car got a hit by a deer. Though the damage on the car was not fatal, shortly after Colby chose to let go of its hands. He tasted other cars, but as they say, there was no way back: he bought another Miata in August 2017. Why? Because jinba ittai: cheap at price, cheap at costs, lightweight, compact, fun to drive – and easy to work on.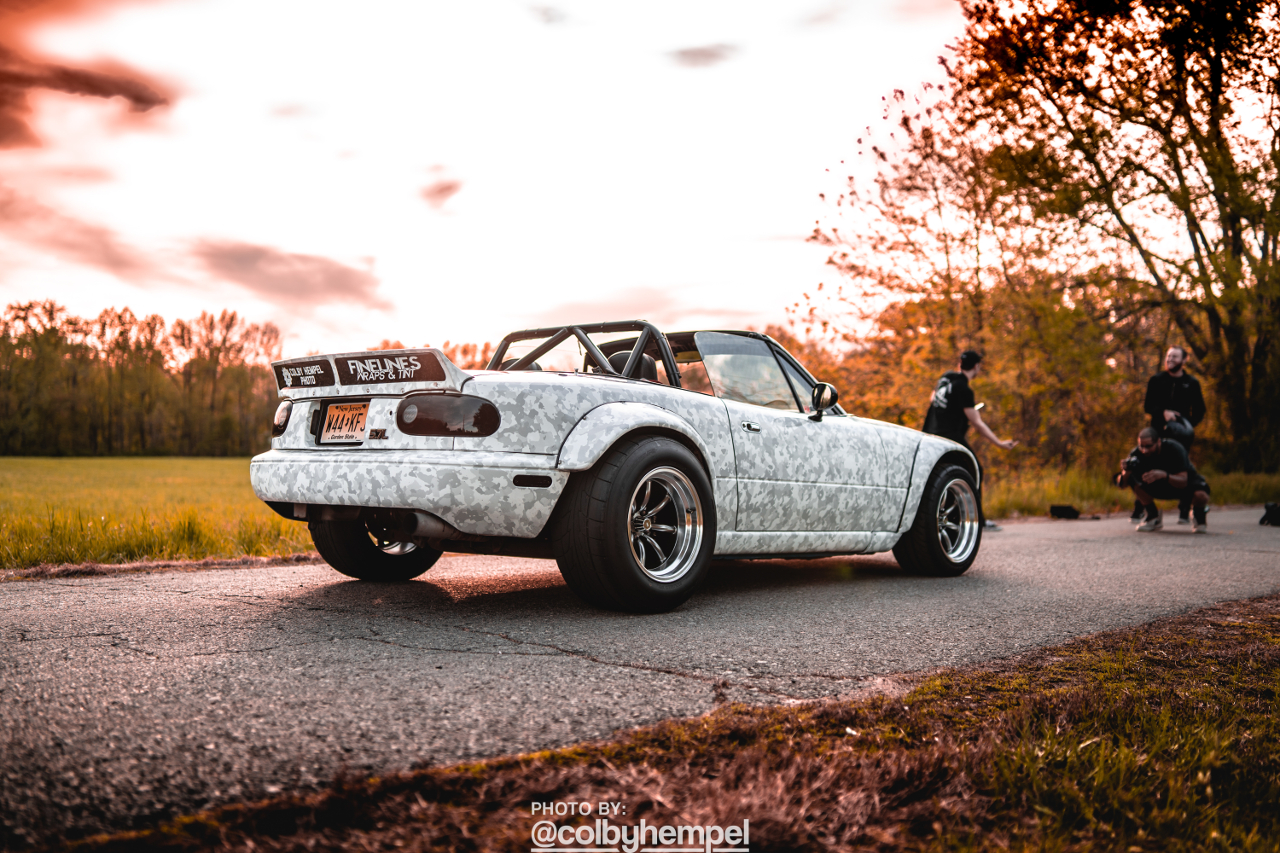 A Tiny Angry Version of a Corvette
This LS-swap saga wasn't a clear goal. Colby's initial aims now sound quite reserved compared to result. As he told me,
The original plan was to build a 1.8 with forged internals and run a big turbo, but after doing research I learned that the transmission and the rear end would not hold my power goals reliably. I was going to have to swap them for something stronger anyways so may as well use the most reliable and powerful engine I could find."
Eventually, that engine was GM's 5.7-liter V8, the LS1 built by J&E Performance, and swapped in by a local garage Unit 12 Motoring. Now there's 400 horsepower in the little Mazda's nose being fed through FAST racing fuel rails while kicking back 400 Nm of max torque to the Ford 8.8 IRS through a T56 six-speed gearbox, though apparently the driveshafts could deliver double amount of that to the wheels. That seems a clever oversizing.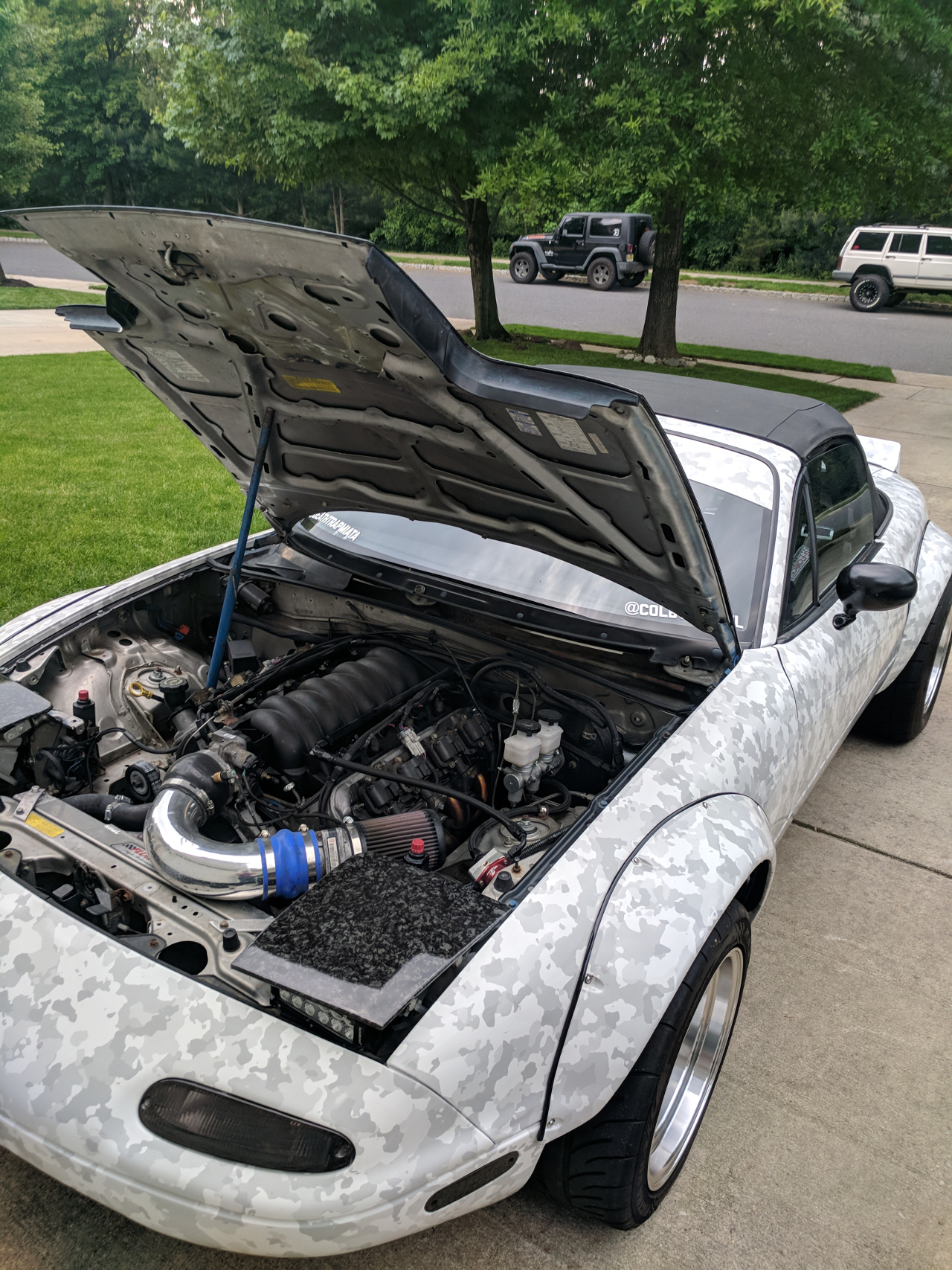 Feels fairly robust even reading it, but in real life this little jewelry box still has some jinba ittai roots left: the V8 did fit pretty decently into the Miata's little bay, moreover it doesn't weigh more than 1043 kg (2300 lbs) with the tank full. This combo delivers a paradoxonic feeling like you're driving "a tiny angry version of a Corvette."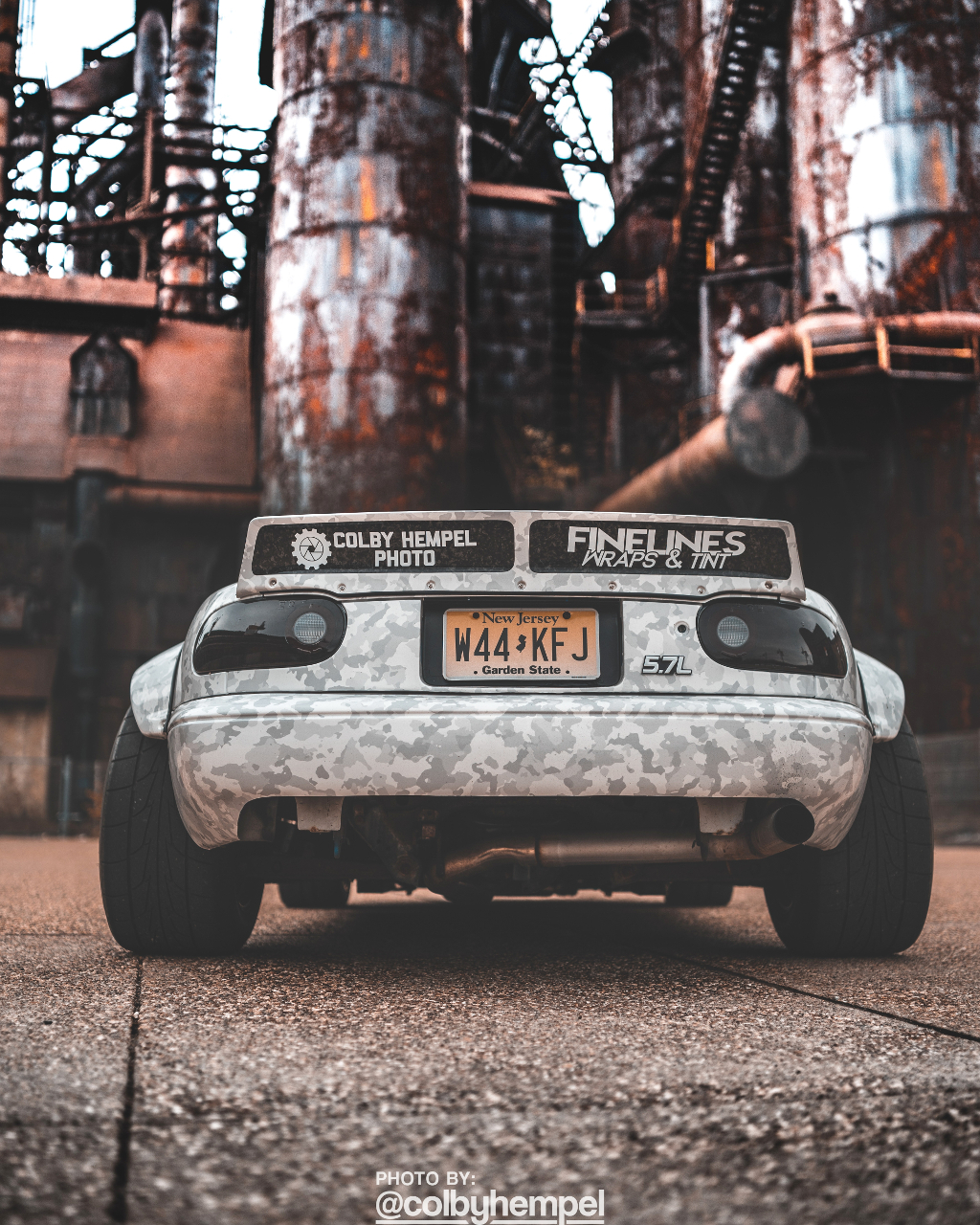 Colby likes ¼ mile challenges, his first attempt with the Miata was a 12.2 trapping 200 kph with a 3.27 final gear ratio. Their current record is 11.8, partly thanks to the Hurst short shifter and a set of Nitto drag tires under duty.
And some big brakes to stop later on. There's a Wilwood system around that car with 4-piston calipers, gathering with DSD coilovers to provide nice stance and nice damper on the streets of New Jersey.
Toretto would give his approval for that
This Miata could be a bloody proper protagonist in the Fast and Furious-saga – and take that as an honest compliment this time. Widened with a 2M Technics Rocketbunny fender kit, a set of 15" Felgenwerks wheels, and body covered with a consolidated Finelines camouflage - these handful of humble mods are just enough to express yourself. I'm taking a guess that in a parallel universe where Dominic Toretto really exists, he'd chose this Miata over that Dodge Charger.
On the inside a Hard Dog rollcage supports some more torsion stiffness, 4-point G-Force harnesses for further safety, and an NRG steering wheel with a quick release.
Sure a project like this has some kinks after finishing, but this Miata proved herself on its inagural mission, right after it was able to hit the road. Colby's first road lead to the closest exhaust shop to have a muffler (yes, he made that road there with an open header), then to set off to a 400 km trip to the H2Oi Festival, Ocean City, Maryland with no gauges and windshield wipers, but with a 4000 rev limiter. In the middle of the night.
Hands up guys, honestly: which one of us was this cool at the same age?
Photos by Colby Hempel and Zach Stout
Follow Colby and his Miata on Instagram!
A bejegyzés megtekintése az Instagramon
Detailed specs // Mazda Miata MX-5 (1990) 
Owner // Colby Hempel
Home // Hainesport, New Jersey
Engine // GM LS1 5.7-liter V8 engine; Sloppy Stage 2 camshaft; V8Roadsters LS swap kit; V8Roadsters Cooling Kit; Wiring specialties standalone LS1 harness; FAST fuel rails and fuel lines; Aeromotive fuel pressure regulator
Driveline // T56 6-speed gearbox; Hurst short shifter; Ford 8.8 IRS; Driveshaft shop 800hp axles
Body // 2m Technics Rocket Bunny Widebody Kit; Finelines Wrap & Tint winter camouflage; LED lightbar headlights
Suspension, brakes // DSD coilovers; Wilwood 4-Piston big brake kit
Wheels, tyres // Felgenwerks 4x100 15 wheels; Nitto NT-555R 275/50/15 Drag radials 
Interior // NRG steering wheel and quick release hub; Hard dog roll bar with harness bar; G-force 4-point harnesses; Custom center console by Carl Roo
Special thanks to // Unit 12 Motoring; Fonse Performanse; 2m Technics; Finelines Wrap&Tint; and good friend and club member Tim for helping.
Pull over to Facebook!